The international health crisis is forcing exceptional measures in all countries. A complicated moment for the whole world that is leaving us with signs of solidarity and humanity in every corner. The luxury firms are also doing their bit, with the LVMH using its factories to produce disinfectant gel of free hands in France.
From musicians playing from balconies to liven up the running of the bulls to restaurants serving the food of hospital staff. Everyone, companies and people, want to help us get out of this drama that has caused the Covid-19. The giant LVMH has also responded to the call for help and has done so in style. Because the conglomerate of luxury fashion, beauty and lifestyle has turned the beauty factories of Dior, Givenchy and Guerlain into producers of gel free disinfectant.
The disappearance of the disinfectant hand gel that we have already experienced in Spain is on its way to happening in France. The hydroalcoholic liquid is beginning to be a scarce commodity in the neighbouring country, but LVMH has already set to work so that it can be distributed free of charge to public health authorities. To this end, they have put their own cosmetic and perfume production factories to work, ensuring that they will have the first shipment ready today.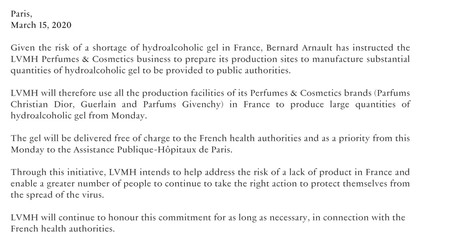 In this same statement, they estimate that in the first week of quarantine there will be produced about 12 tons of hydroalcoholic gel. "It will be distributed free of charge to the French health authorities, with priority given to the Paris Hospital for public assistance. With this initiative, LVMH aims to enable a large number of people to continue working with the right protection to prevent the virus from spreading.
"LVMH will continue to honour this commitment for as long as necessary, working closely with the French health authorities."
Photos | LVMH, Unsplash.