Last night the city of Los Angeles was dressed up to welcome the BET Awards 2021an event created in 2001 by the network Black Entertainment Television to recognize African American and other ethnic minority individuals who excel in music, sports and entertainment. With these premises in mind, its red carpet was a varied one, being Zendaya the star of the evening with a design that left no one indifferent.


From Beyoncé to Zendaya almost two decades apart
Versace's yesteryear collections have a lot of history and one of the best dates back to Spring-Summer 2003. There we find sexy, low-cut dresses that once made Beyoncé herself fall in love. While a mini version in pink and orange became the favorite of the famous videoclip Crazy in LoveQueen B opted for a lilac version in one of her countless performances.
With a modified dress length – midi version – the Euphoria star fell in love and became the big star of the evening. No matter how many years go by, this garment proves to be still current, sexy and very feminine. The combination of colors as well as the daring neckline make it an iconic piece in the fashion world.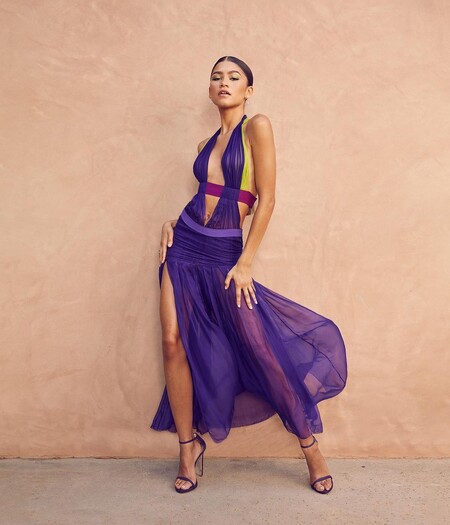 How could it be otherwise, the actress had her "fan" moment and didn't hesitate to pose with the dress and song Crazy in Love in the background. A tribute that shows that in both cases, this iconic garment has taken all the limelight and has reminded us that trends always come back.
Photos | Instagram @zendaya