This weekend saw the MTV Movie and TV Awards take place in a two-day event that has made it possible to square up the possibilities of this red carpet. A party that is always full of celebrities young people, daring styles and a lot of originality. That's why our favorites of the night are so varied, from the sophistication of Elizabeth Olsen to the extravagance of Riley Keough.

Mandy Moore in Altuzarra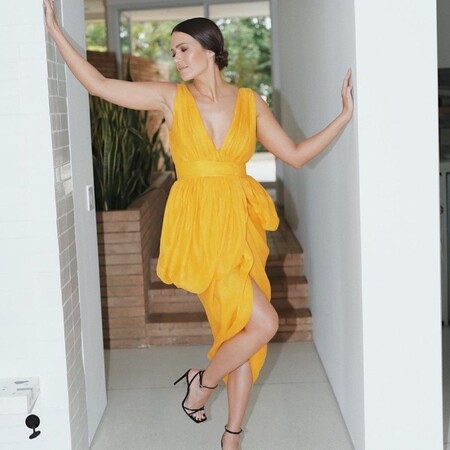 She was the star of the night in that gorgeous yellow gown so sophisticated. We love how she has brought back the peplum silhouette in a very oversizewith that puffed and puffed overskirt falling over the skirt midi. The updo and the black sandals simplify everything and make it even more elegant.
Lana Condor by Giorgio Armani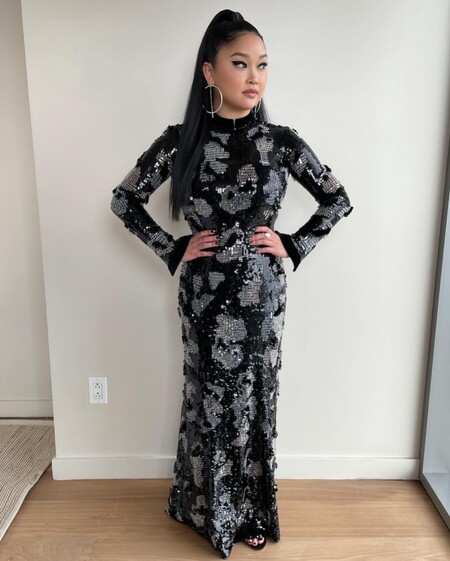 Young Lana Condor (who many of us still know as Lara Jean) went all out with the sequins on this sequinned dress, which also comes with animal print. We love that she combined it with a beauty look so futuristic at the stroke of eyeliner and those silver XL earrings. She looks spectacular, very modern and breaking away from the good girl image. that has been attributed to her since To all the boys I've fallen in love with.
Elizabeth Olsen by Miu Miu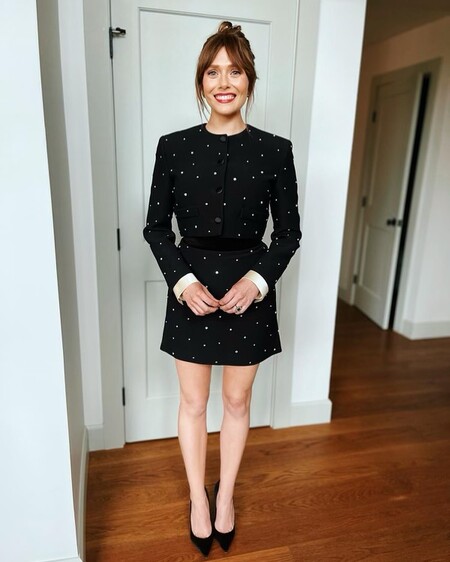 The most ladylike of the evening is provided by the actress of WandaVision and this two-piece set from Miu Miu. A design by mini skirt and jacket cropped black covered with pearlswith covered buttons and satin cuffs for the ultimate look. preppy possible. With the updo messyThe curtain fringe and the red lips make her look beautiful, worthy of Alexa Chung herself.
Antonia Gentry in Valentino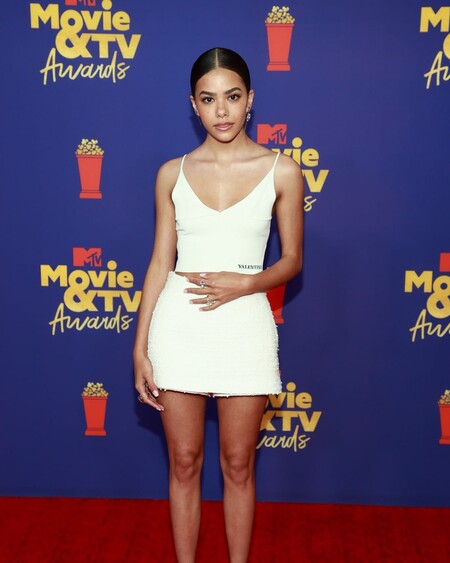 Watch out for Antonia Gentry who since starring in Ginny & Georgia Netflix's Ginny is going through the roof and is the perfect example of style. zentennial. Also on the red carpetwhere has brought back the V-neck top with two-milero straps. and combined it in total white with trouser skirt of tweed. Simple, minimalist and beautiful.
Addison Rae by Christopher Esber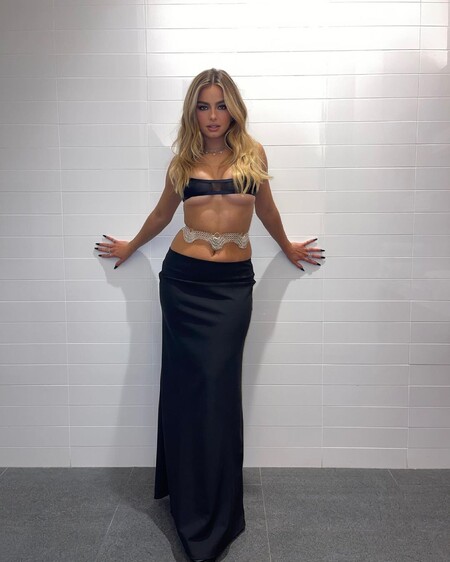 Boom! We know this election is going to lead to a lot of mixed thoughts, but this isn't the Oscars. The MTV Awards red carpet is like the Grammy's, we expect to see eccentric follies over the top and Addison Rae with her jeweled belt. and her skimpy top has been able to deliver. Few would dare to wear this 90's low rise like her.
Madison Bailey by Versace
Another one who has come to the red carpet This time it's Versace's multicolored navy print. The totally asymmetrical ruffled skirt fits like a glove with that open top on the abdomen, but our favorite wow factor was that XL braid full of snails Rosalía style. All very flamenco, love it!
Yara Shahidi by Yara Shahidi x Adidas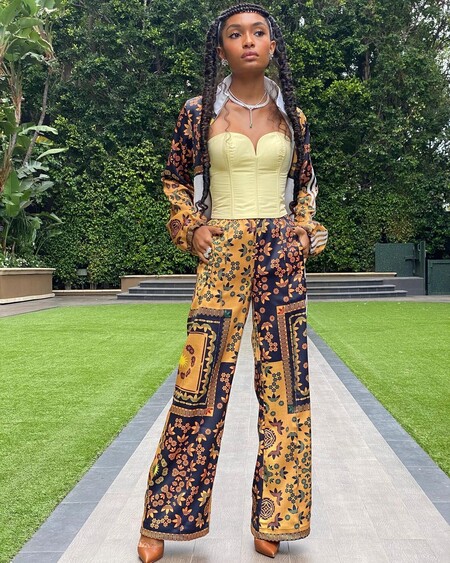 The fashionable actress recently launched a collaboration with Adidas. The result are outfits with satin touches, elaborate botanical prints and designs that look like so much more than a tracksuit.. To prove it, Yara Shahidi wore it on the red carpet with high heels, a corset and diamonds, achieving one of the most original looks of the night.
Yvonne Orji by Mimi Plange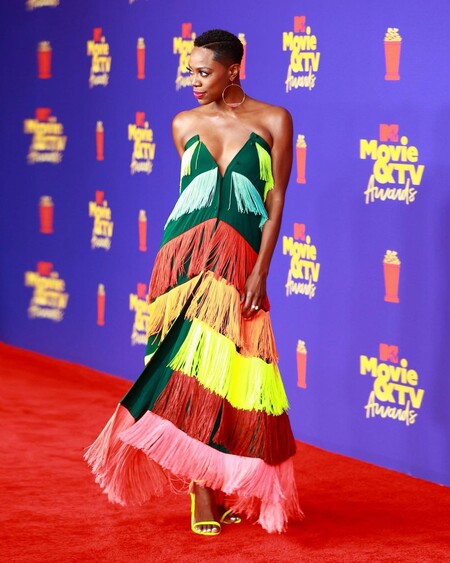 This dress is a real gem that deserved to be in this selection. Full color, full of fringes that move with every step and without leaving aside the palette of neon tones. A garment high that would be ideal for all our events. summer events, making us like Yvonne one of the best dressed wherever we went.
Riley Keough in Gucci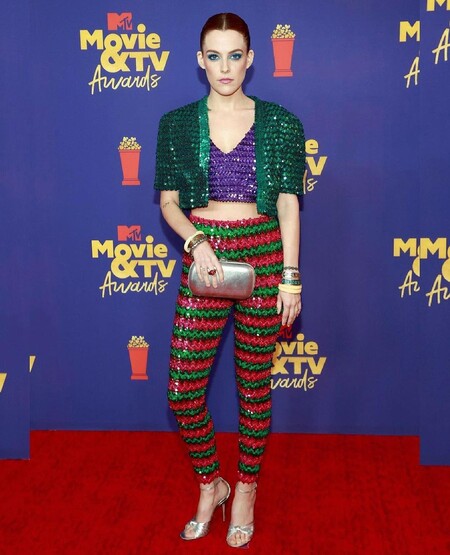 There is no red carpet that is without its most extravagant Gucci moment. Today it comes from the hand of Riley Keough, who has loaded up her look in sequins and glitter with two of summer's most daring color combinations.pink and green vs. purple and green. Alessandro Michele at his purest.
Photos | @mandymooremm, @taraswennen, @elizabethstewart1, @mtv, @addisonraee, @madisonbaileybabe, @jasonbolden, @yvonneorji, @rileykeough.