Dressing as a bride is an inexplicable feeling, especially if you're a true fashionista. All brides dream of a design that makes them feel unique and special on the day they get married.
According to the title "Essential Wedding Book", a Spanish bride spends an average of 1,750 euros on a dress created by a specialized bridal brandBut to aspire to wear a dress of a prestigious brand among the admirers of contemporary fashion is more within our reach than we think.
Designers such as Zuhair Murad, Elie Saab, Jacquemus and Vivianne Westwood are names that become the headline for all those who are looking for a original, exclusive and unique design to celebrate love and fall in love with the beauties we see on the world's greatest catwalks.
These pieces, made up like works of artThe designs are made in artisan workshops where expert hands are in charge of the elaboration of each design with a exquisite sensitivity. In the Luisaviaroma we find a series of luxury wedding dresses that, although it may seem difficult, have a lower price than we think.
Let yourself fall in love with these models of great designers and become a cover girl this spring.
Tulle dresses
Romantic-looking designs are a favorite of many brides. Tulle is a triumphant trend in bridal key this 2020 and they remind us of proposals like the Italian Giambattista Valli. Brides who opt for romantic tulle dresses can close the look with a natural makeup and a semi-rigid.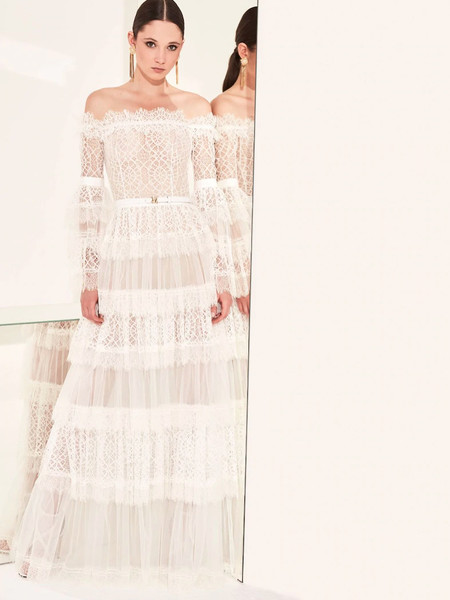 Lace and tulle dress with bare shoulders by Zuhair Murad in Luisaviaroma. Its price is 4,976 euros.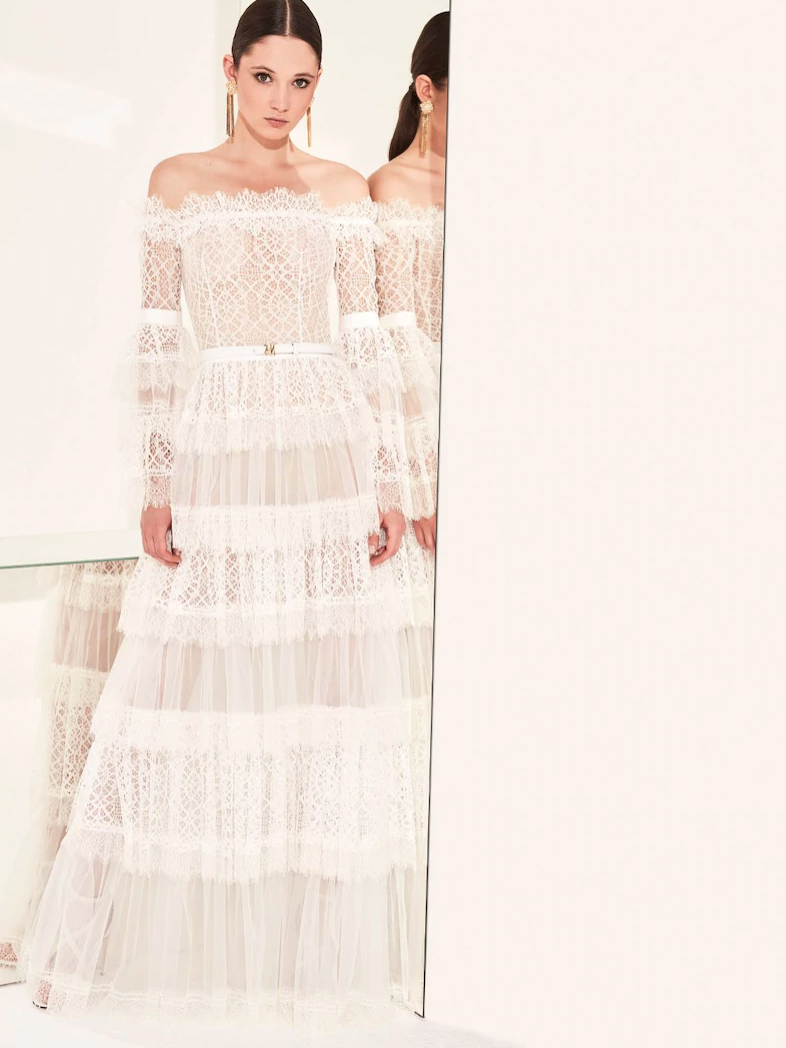 LACE AND TULLE DRESS WITH BARE SHOULDERS
Giambattista Valli tulle dress in Luisaviaroma. Its price is 2,970 euros.
Lace dresses
Lace is one of the traditional fabrics that has accompanied brides since time immemorial. At present, we see it in both classic patterns and more daring cut designs. If you choose a lace dress you can pick up your hair with a polished bow.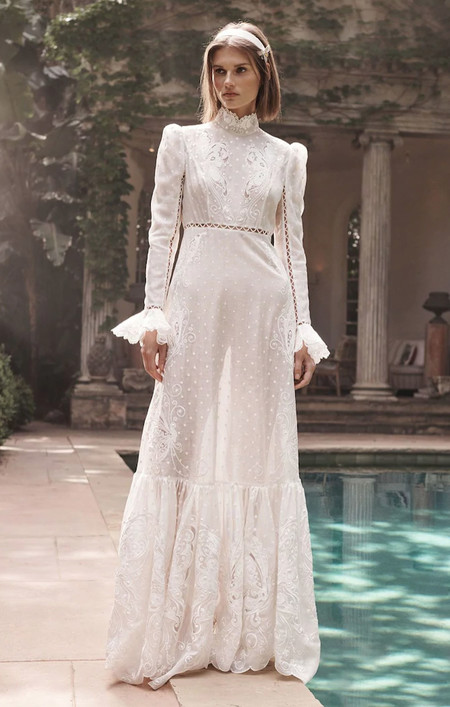 Long-sleeved lace dress from Zimmermann in Luisaviaroma. Its price is 3,150 euros.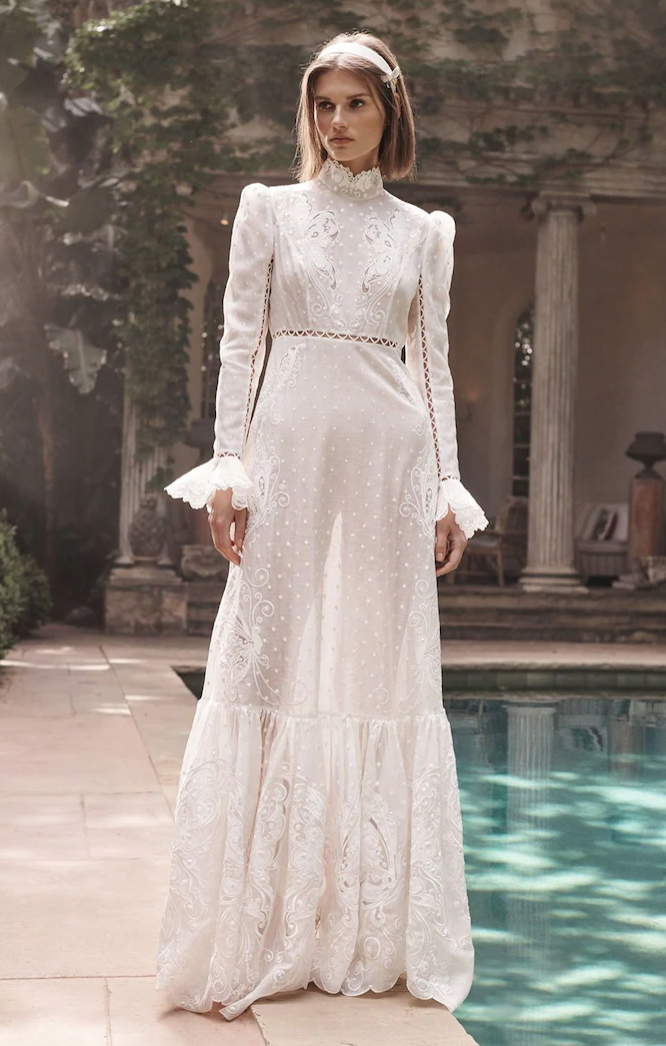 Minimalist silk dresses
Another of the most commonly used materials for making ceremony models is silk. This very tasty fabric is perfect for creating both romantic pieces and minimalist designs. Some designs integrate silk with other materials while others use it as a star fabric.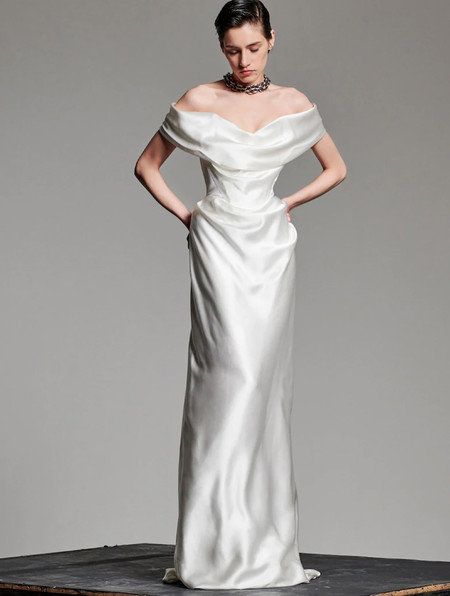 Vivianne Westwood's silk satin dress. Its price is 5,620 euros.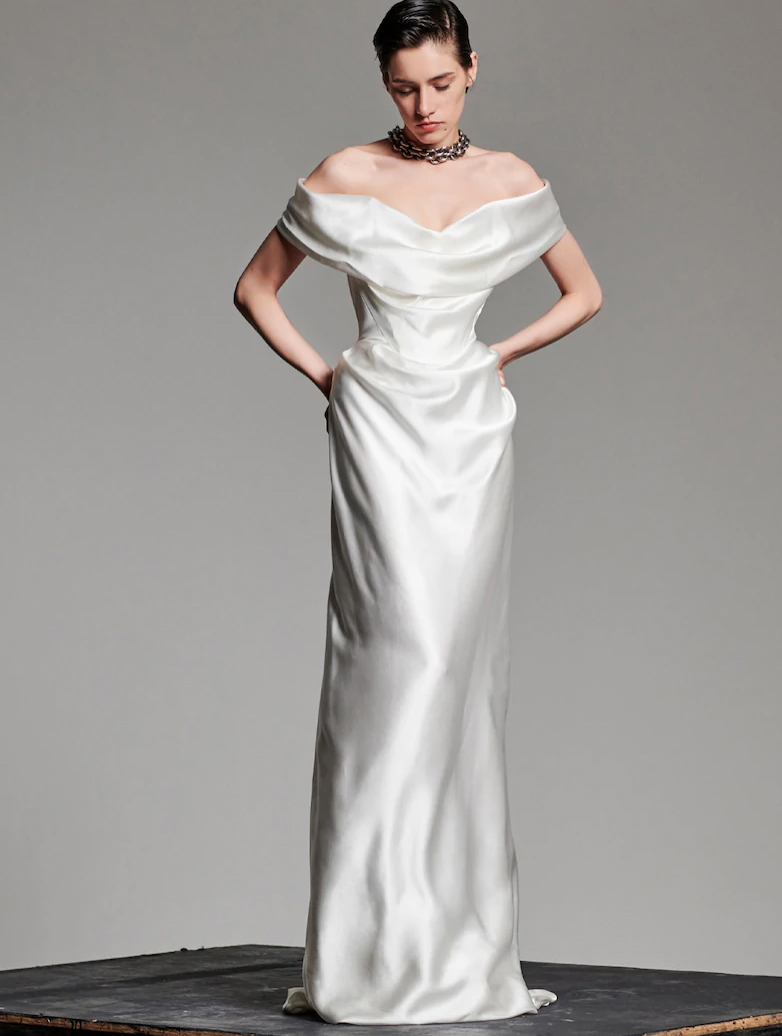 Dresses with feathers
The most adventurous brides can wear original models with feather applications. These designs, sophisticated and with an aesthetic that allows us to travel to the 1920sThey are ideal for wearing with simple shoes, minimalist make-up and simple pickup like a low ponytail. In this way, the feathered dress will take all the limelight.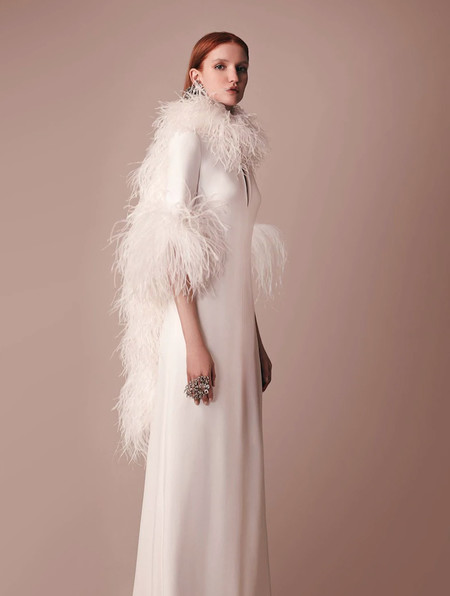 Long dress with feathers by Elie Saab in Luisaviaroma. Its price is 1,995 euros.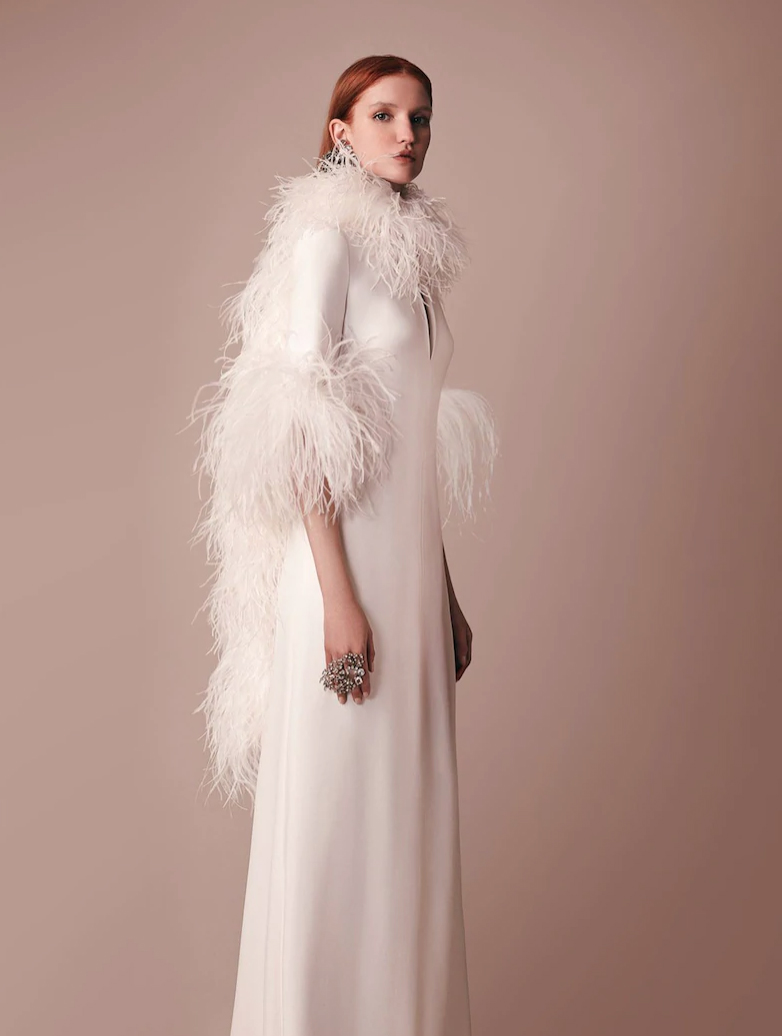 CADY LONG DRESS WITH FEATHERS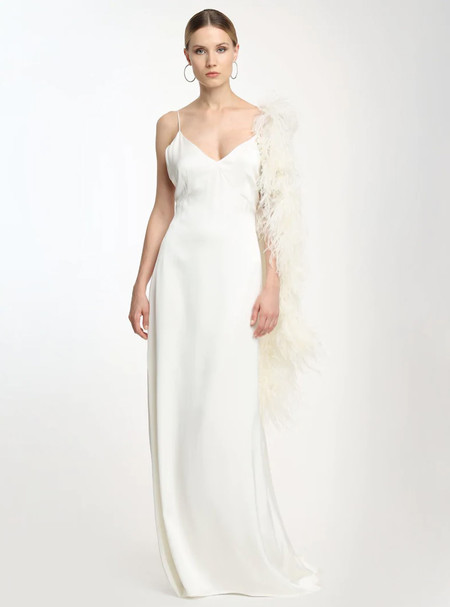 Silk slip dress with feathers by Magda Butrym in Luisaviaroma. Its price is 2,214 euros.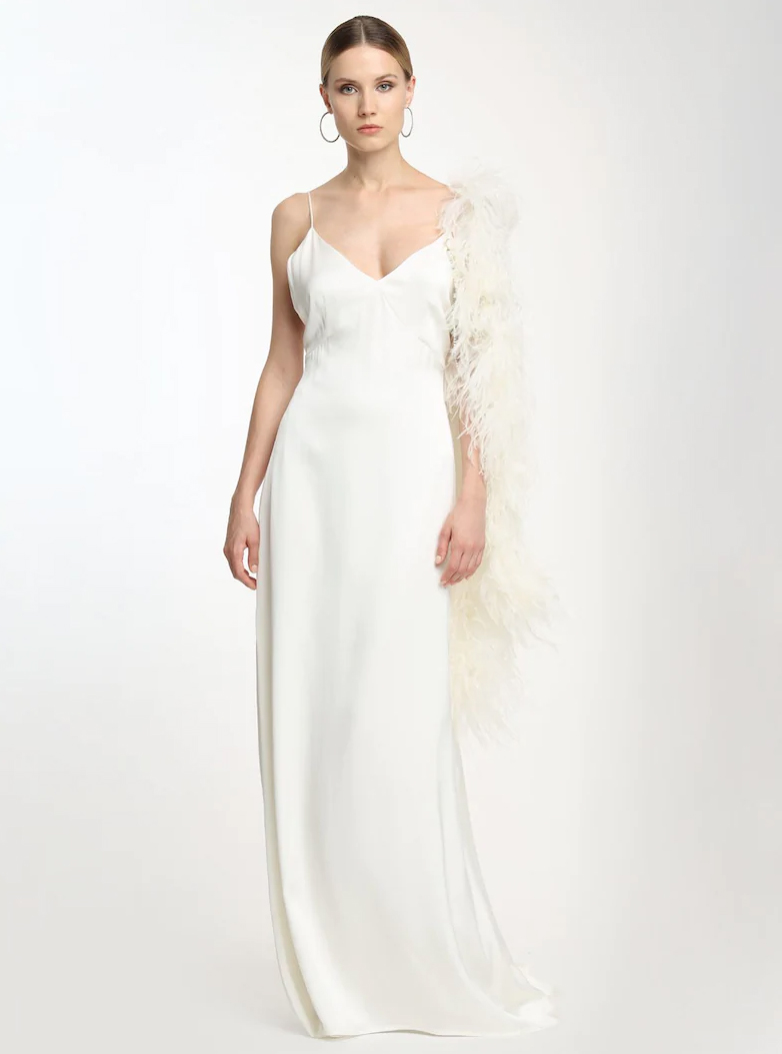 EXCLUSIVE" SILK SLIP DRESS WITH FEATHER BOA
Eighties dresses
Eighties fashion, which stands out for features such as the marked shoulders, contoured figures and dizzying necklines are one of the most original brides these past few seasons.
Viviaenne Westwood is one of the iconic designers of the time which is still at the bottom of the barrel and which proposes models as ideal as the one we see in the image.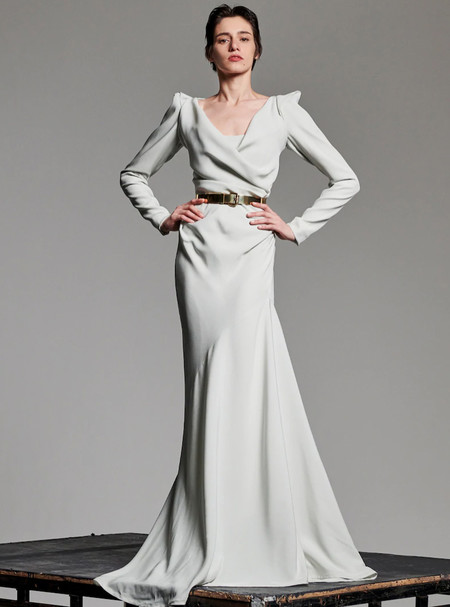 Long crepe matt dress by Vivianne Westwood in Luisaviaroma. Its price is 2,150 uros.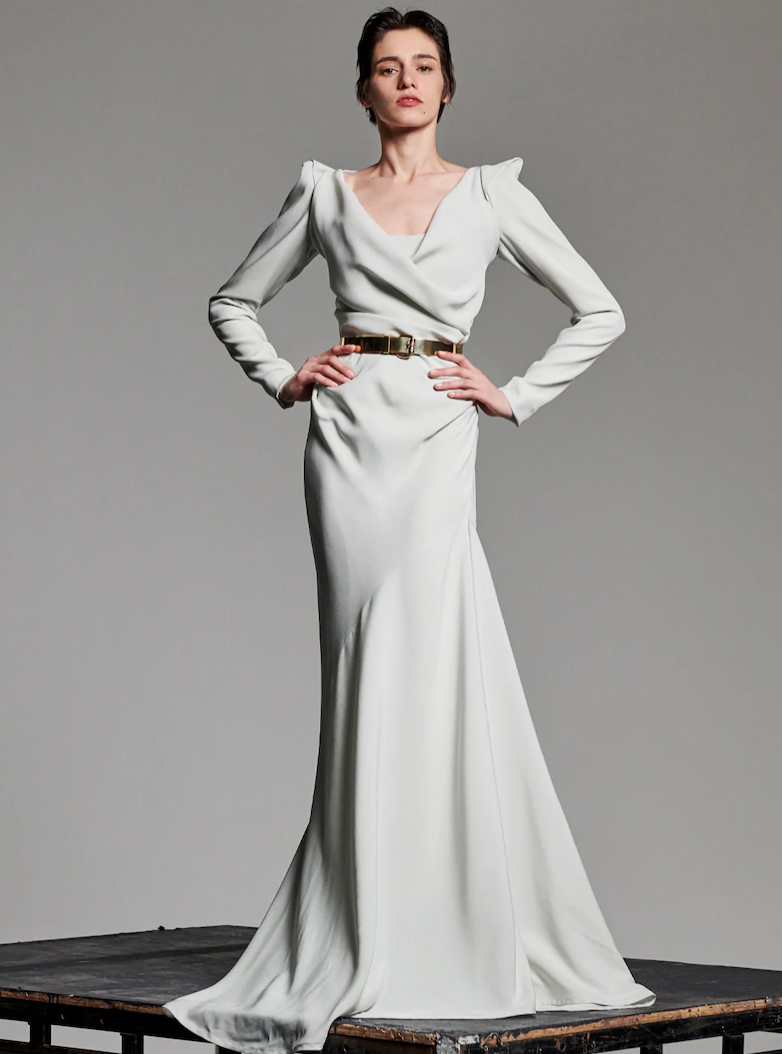 MATT VISCOSE CREPE SATIN DRESS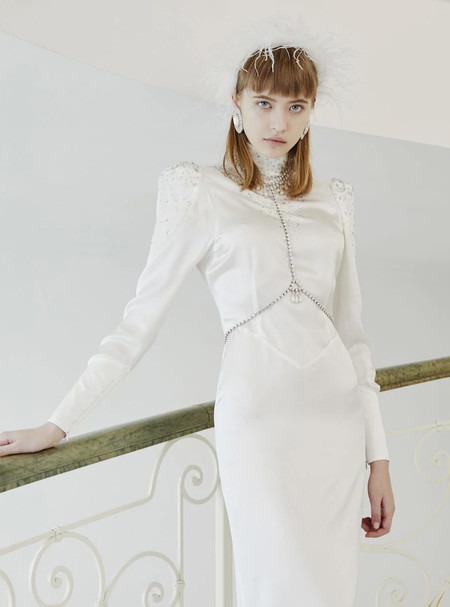 Alessandra Rich's long satin dress with turtleneck. Its price is 2,450 euros.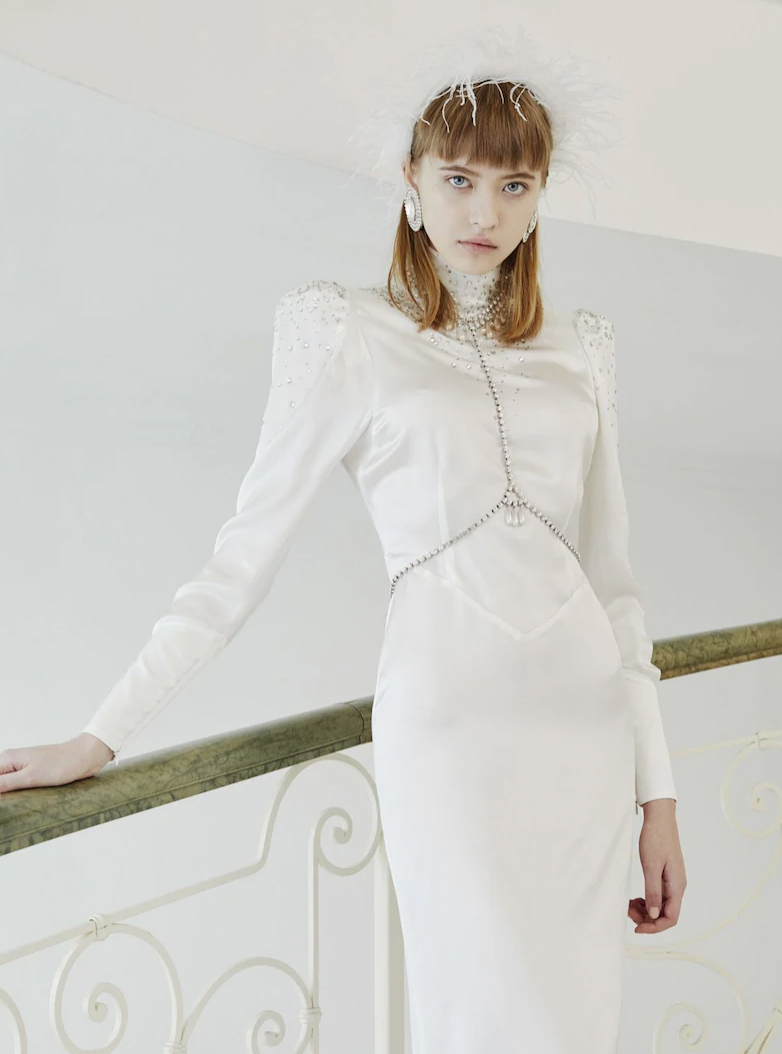 Spaghetti straps dress
If you're thinking of getting married during the hottest time of year, spaghetti strap models are perfect for you. These designs, airy hippiesare elegant and bohemian at the same time.
In addition, this series of designs offers you the option of stand out with eye-catching accessories like maxi earrings or some kind of headband or tiara.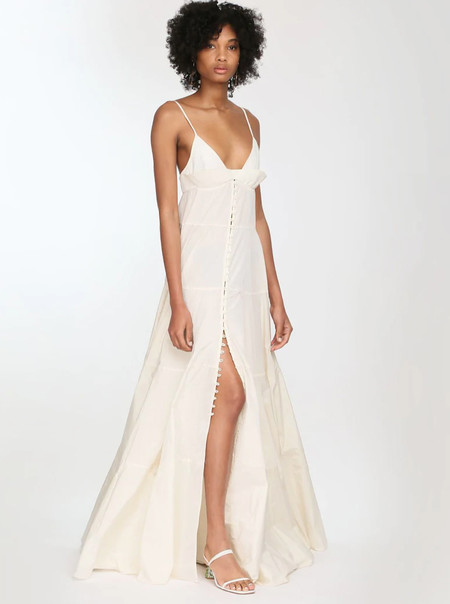 Spaghetti strap dress by Jacquemus in Luisaviaroma. Its price is 891 euros.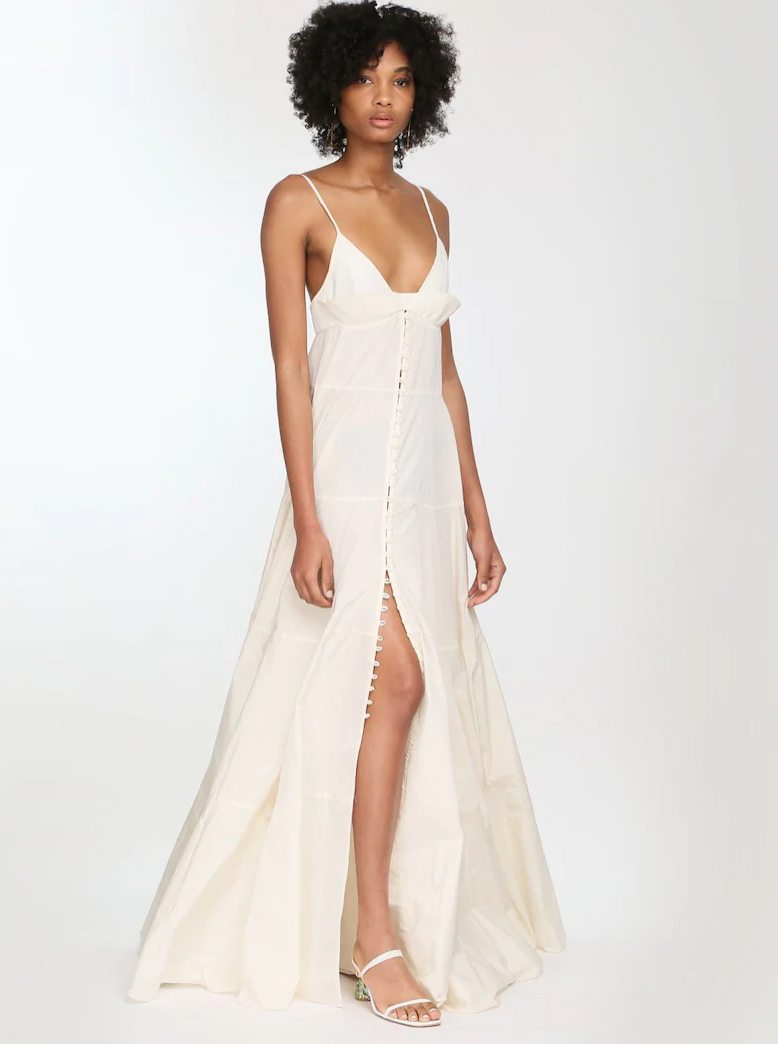 BUTTONED TAFFETA LONG DRESS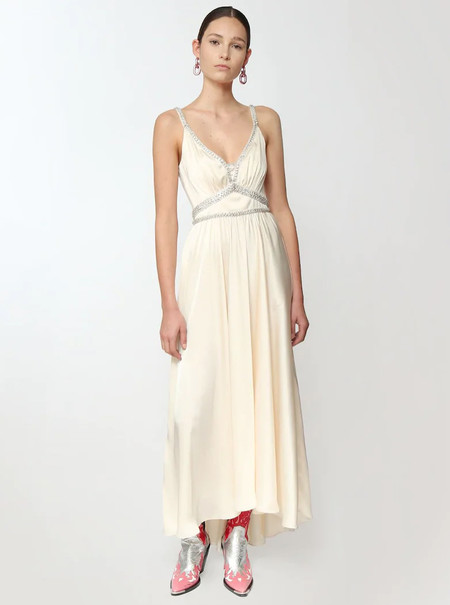 Spaghetti strap dress by Paco Rabanne in Luisaviaroma. Its price is 949 euros.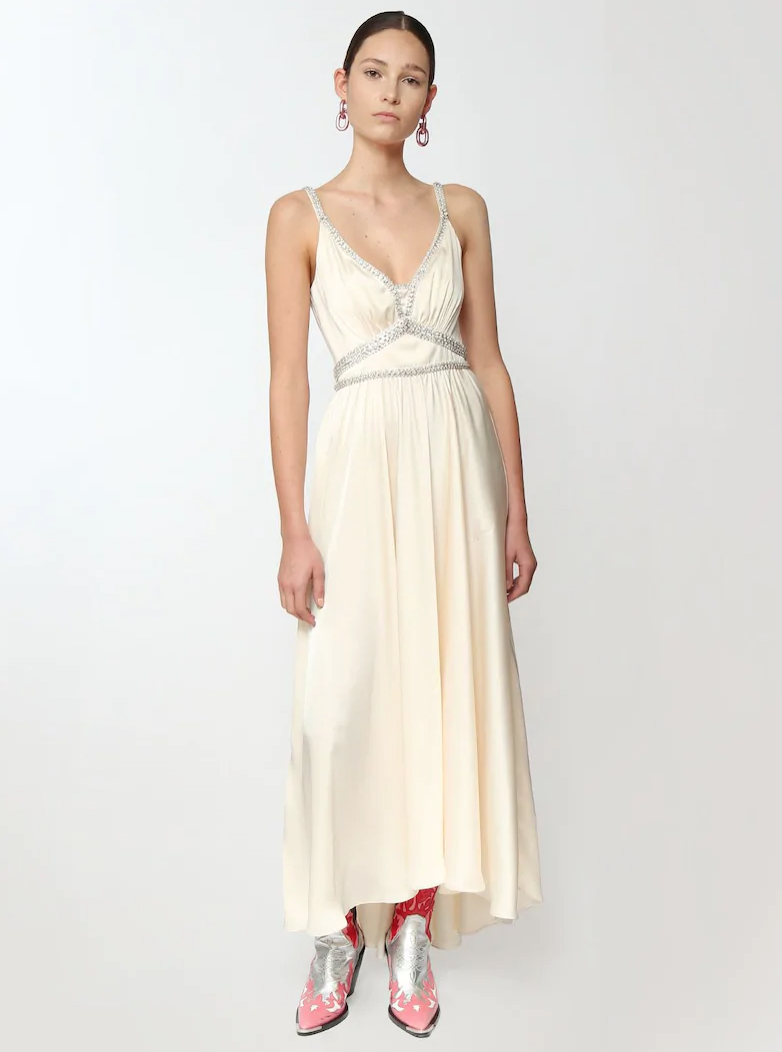 MIDI SATIN DRESS WITH DECORATIONS
V-neck dresses
The most daring brides will be unrivalled in the dizzying neckline designs. The sensuality and elegance are not at odds in the bridal universe. For this reason, designs such as this one by Azzaro, will delight those who want to show off their skin on their wedding day.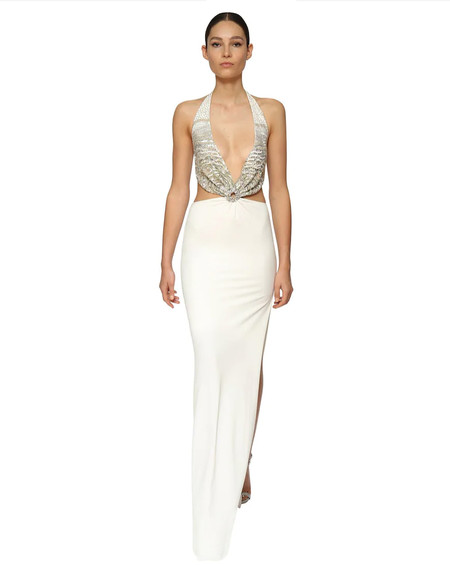 Pronounced Azzaro neckline dress in Luisaviaroma. Its price is 2,834 euros.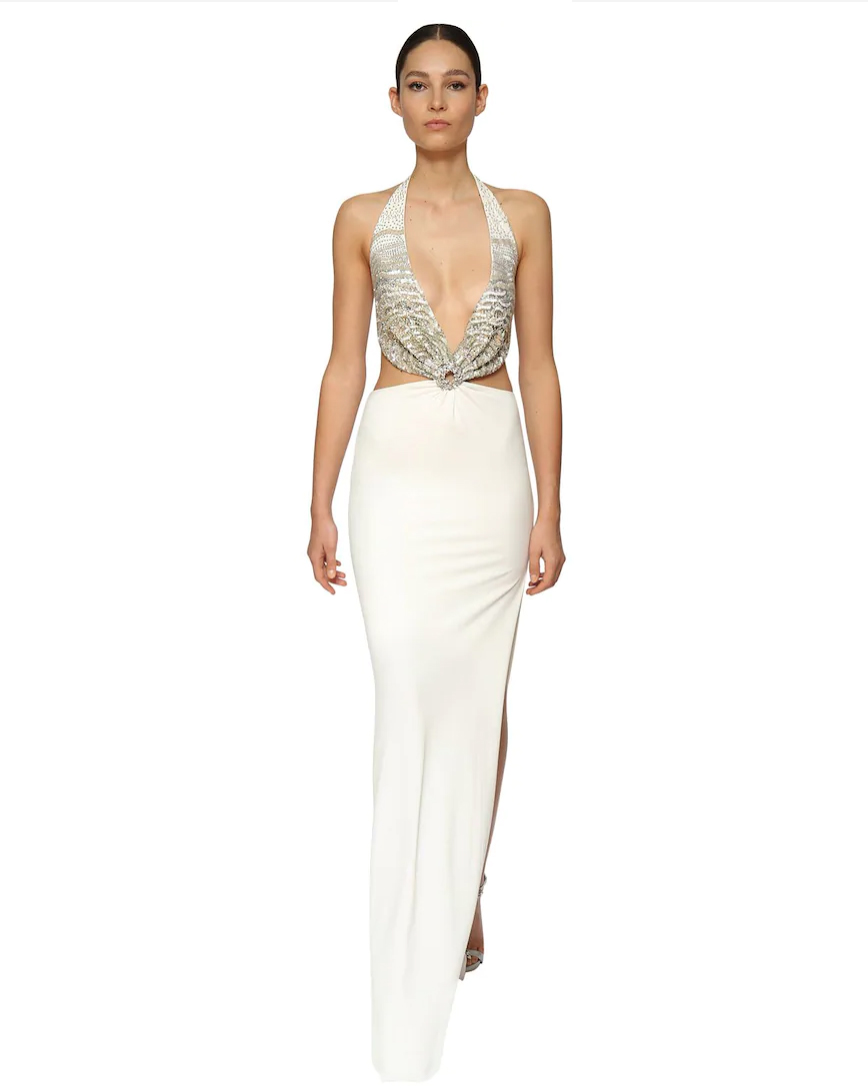 LONG JERSEY DRESS WITH DECORATIONS
Short dresses
They are not new this 2020, but this season they promise to be as popular as possible with the general public. Short wedding dresses are perfect for modern women and lovers of the latest trends who are looking for practicality and comfort on the day of your wedding (without losing style, of course).
Also, this type of cut make the shoe a central element of the whole and promise to highlight your choice of sandals or stilettos.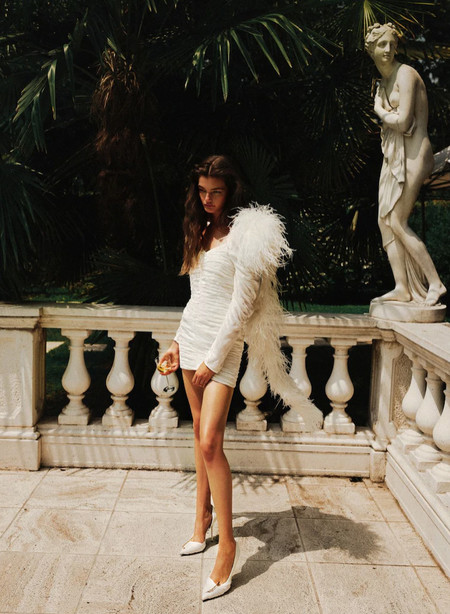 Short dress with feathers by Magda Butrym in Luisaviaroma. Its price is 1,666 euros.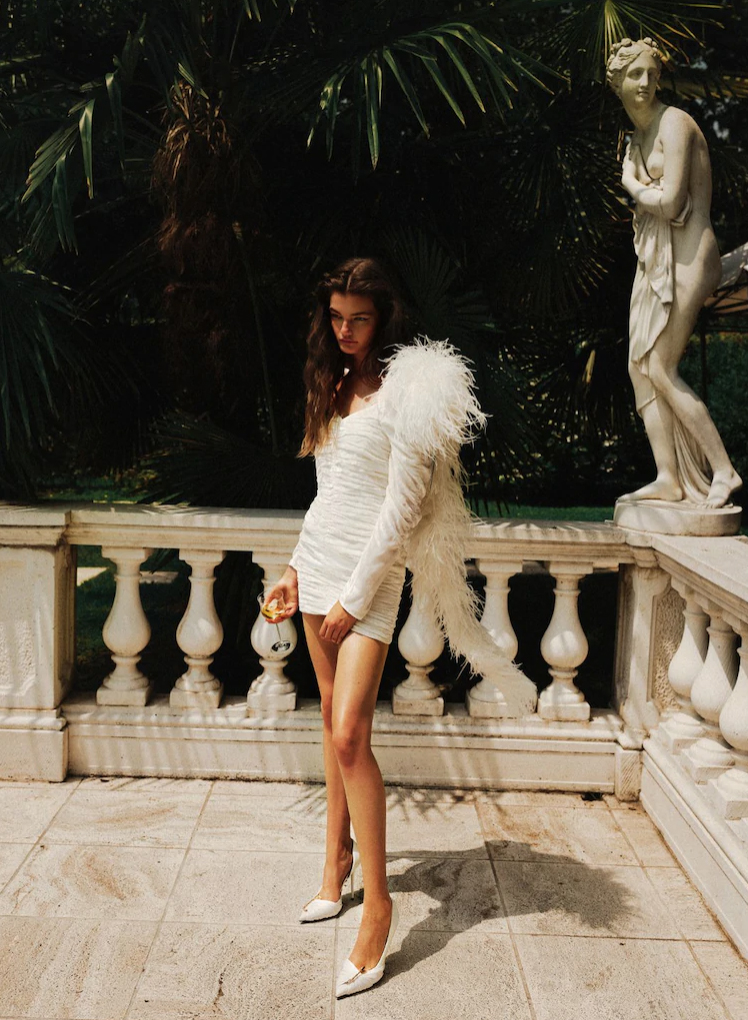 EXCLUSIVE" DRAPED DRESS WITH FEATHERS
Bridal trade
We say goodbye to this review with a proposal that, fortunately, wins over more brides season after season. The two-piece suit, consisting of blazer and clamp-on pants, it's a ideal choice for those who are more comfortable without wearing a dress.
These designs generate a sophisticated, elegant and contemporary bride who's not afraid to step outside the box, and this Alexander McQueen model is a sure-fire bet.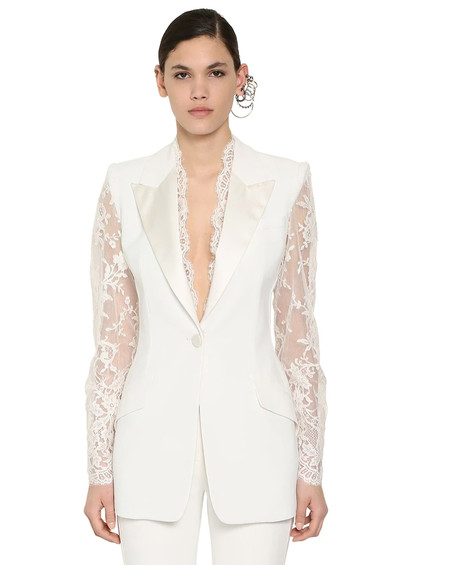 Alexander McQueen crepe blazer and lace in Louisaviaroma. Its price is 2,490 euros.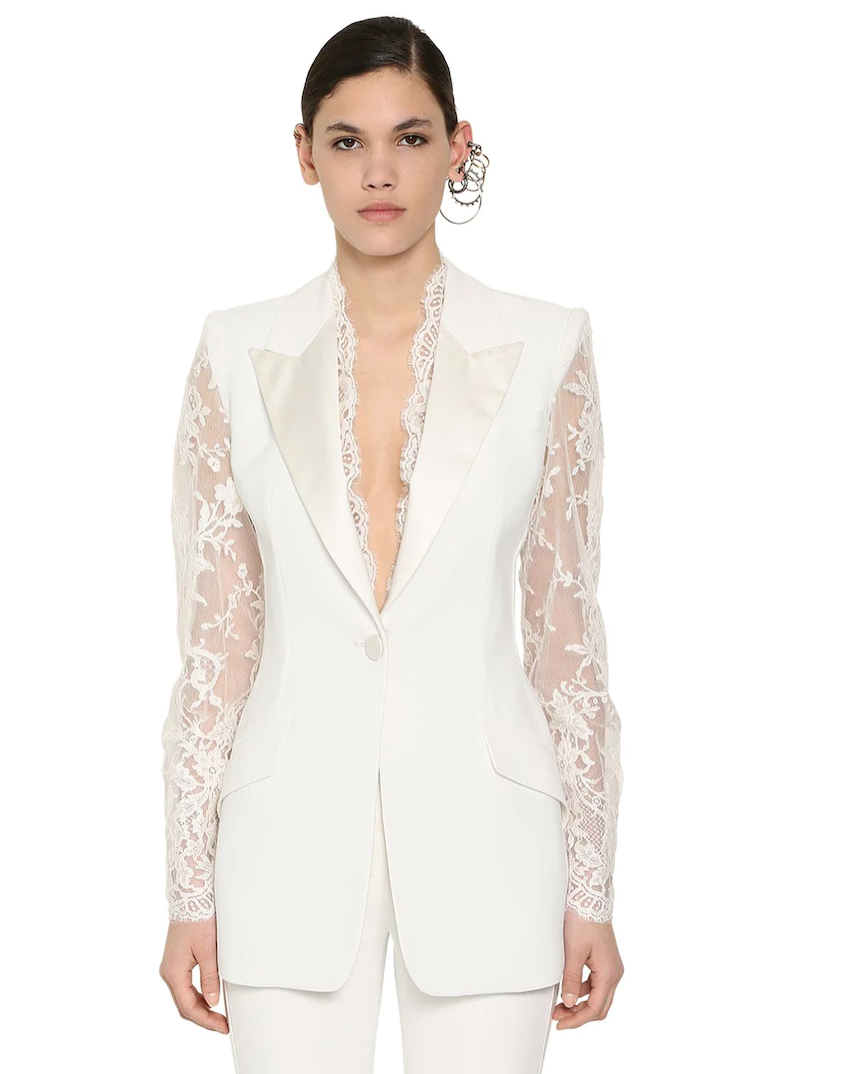 Photos | Luisaviaroma, @eliesaabbridal