We were looking forward to a red carpet. The first in the year 2021 has started in Madrid. The capital has rolled out the red carpet to celebrate the Forqué Awards, the first red carpet and in a reduced version, in order to take extreme measures to ensure health safety and social distancing.
The first to walk the red carpet were the presenters of the gala Miguel Ángel Muñoz and Aitana Sánchez-Gijón and the singers Pablo Alboran and Pablo Lopez. One red carpet with looks for all tastes, with its successes and its mistakes, where the colour black has been the most repeated of the night.

This year the Forqué Awards pay tribute to "unsung heroes" during this pandemic. Representatives from key sectors such as health care, supermarket workers, law enforcement and transporters will present the awards along with the actors.

Aitana Sánchez-Gijón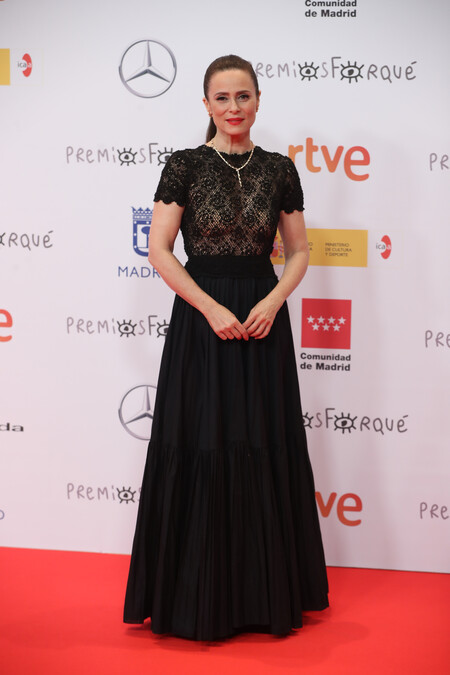 Aitana Sánchez Gijón, The presenter of the gala, has opted for a beautiful creation in black. A dress with a transparent lace body and a pleated skirt made of Dior from the 2021 cruise collection that have made her one of the best dresses of the night.
Elena Sanchez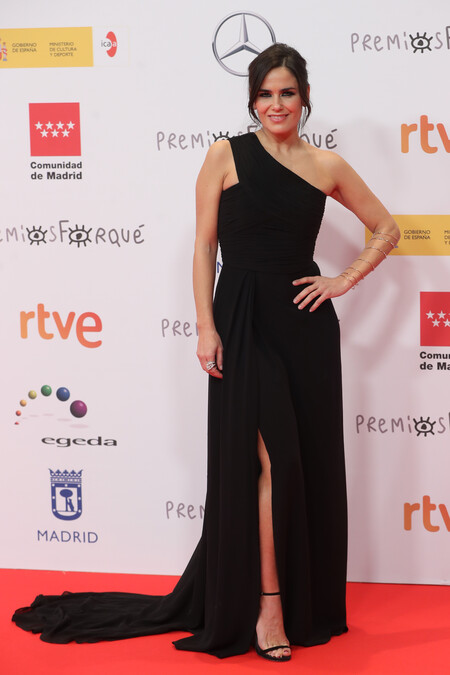 Simple but very elegant. The hostess Elena Sanchez has chosen a black dress of Greek inspiration in black, a model with an asymmetrical neckline and an opening in the skirt with a Miguel Marinero, combined with sandals in the same shade. Ideal the bracelet of several turns up to the elbow.
Natalia de Molina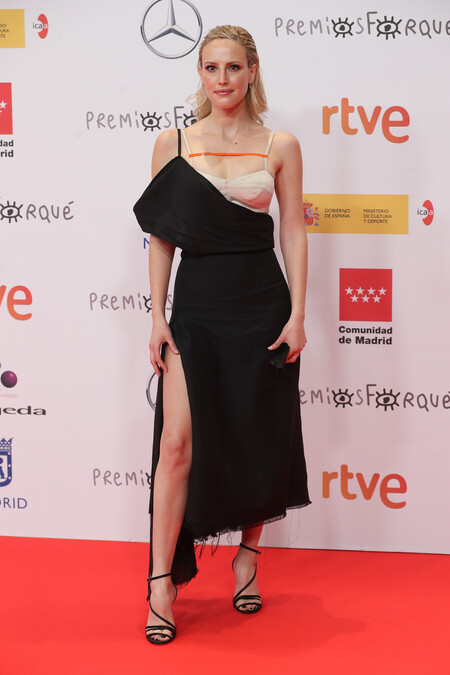 Natalia de Molina has chosen a dress midi very unflattering. A two-colour model with asymmetric neckline combined with white corset and black side draping with several straps, including one in orange, and an asymmetric skirt with a low, flat waistline and a striking opening of Sportmax.
Andrea Fandos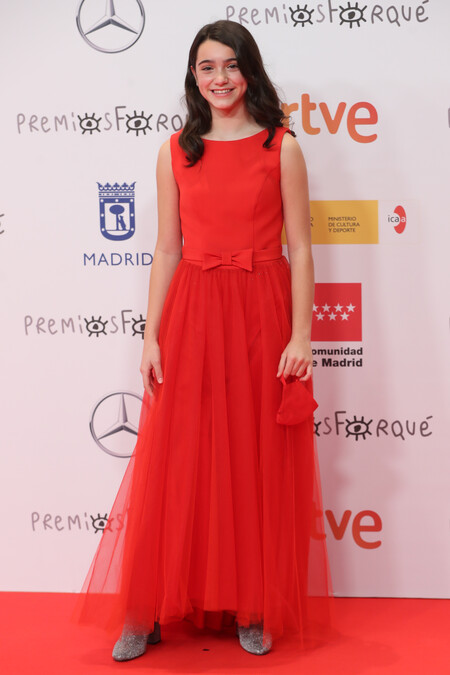 Andrea Fandos has put a touch of color to this carpet where the black corlor has been the most repeated. the actress has worn a red tulle skirt dress with ribbon detail at the waist and boots glitter.
Joanna Arias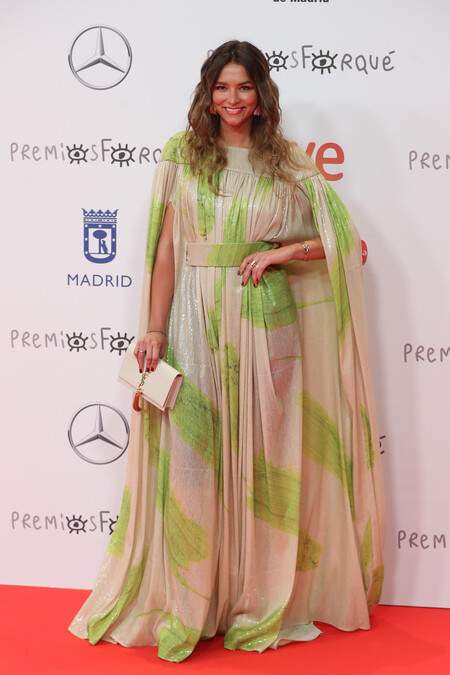 The Colombian actress has worn a flowing beige dress with green fabric brushstrokes with a shiny touch. A design with a tight waist and layer of Angel Schelesser, that he has combined with golden maxi earrings of Lladró, clutch the target of Saint Laurent y make up of Dior.
Vicky Luengo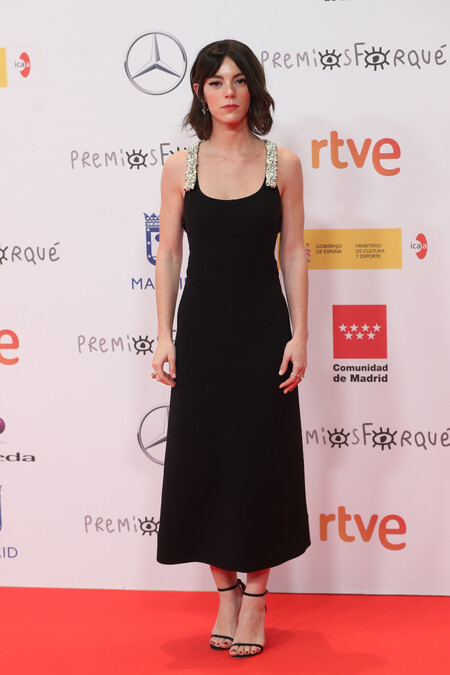 Vicky Luengo has opted for a beautiful midi dress signed by Lanvin. A black design with jeweled straps, crossed at the back in the air, combined with black sandals. A look fantastic responsibility of the stylist Freddy Alonso.
Irene Arcos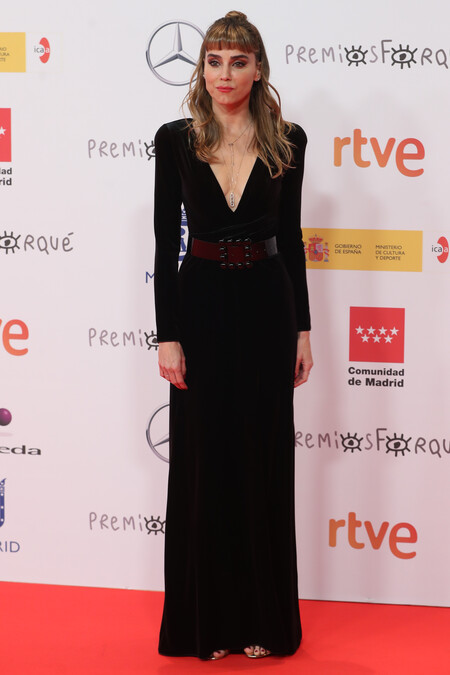 The colour black has also been chosen by Irene Castro. A simple but very sophisticated design in black velvet, with long sleeves and puffed shoulders, a striking v-neck and a tight waist with a wide matching belt.
Susana Abaitua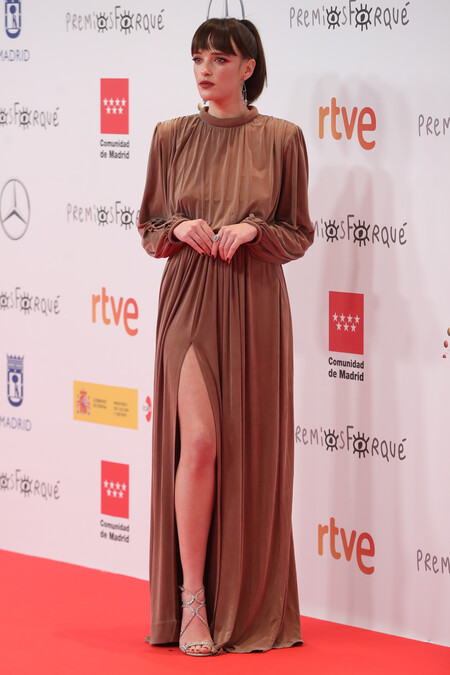 Ideal has been the choice of Susana Abaitua. A long gathers dress in brown, with a closed neckline, long sleeves, a tight waist and an open skirt, thanks to which you can appreciate the beautiful jeweled sandals with crossed straps on the instep.
Elena Furiase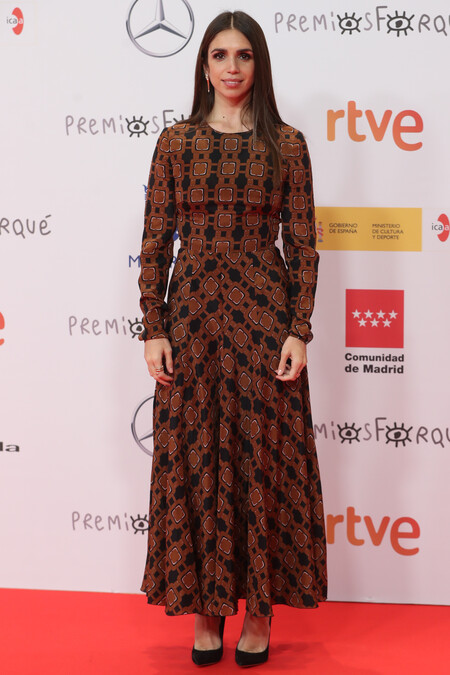 Elena Furiase has chosen a retro-style dress. A brown and black unflattering print model.
Nerea Barros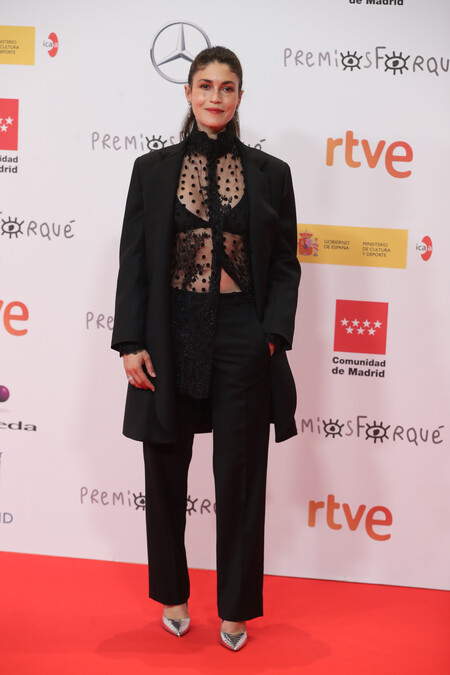 Nerea Barros has preferred to opt for a look with pants on. A tailor with blazer long, ankle-length trousers and a transparent plumeti blouse with a turtleneck. As complements it has shone silver salons.
Isabel Peña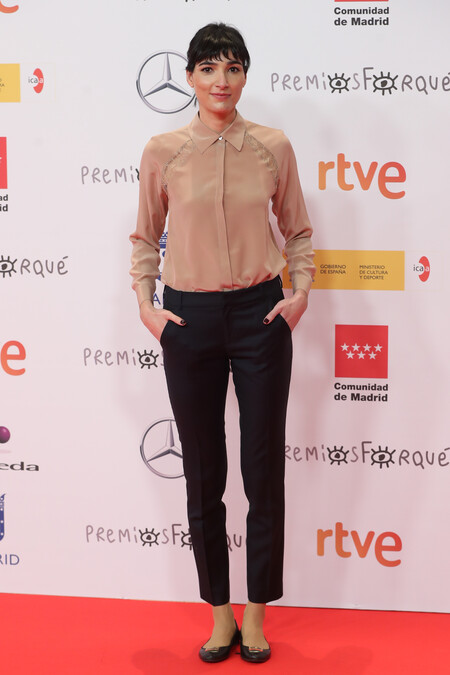 Isabel Peña The actress has opted for a casual look, very simple and normal to wear in the day to day. Ideal blouse in make-up color with lace details, black cigarette pants and black dancers.
Kiti Mánver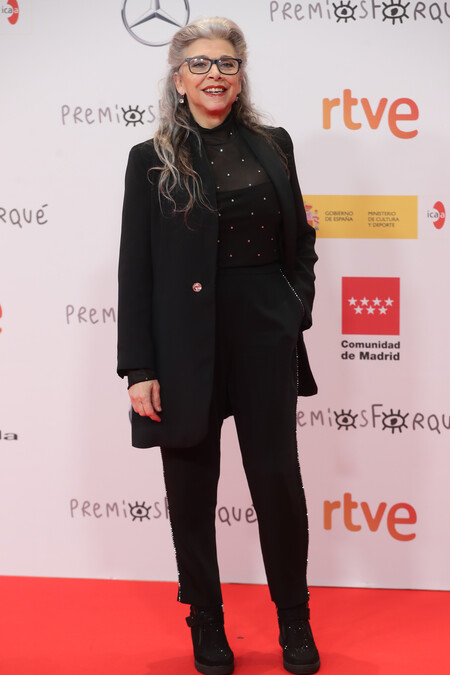 Kiti Mánver has also opted for a black suit. Ideal is the trousers with rhinestone details, combined with a transparent turtleneck.
Andrea Levy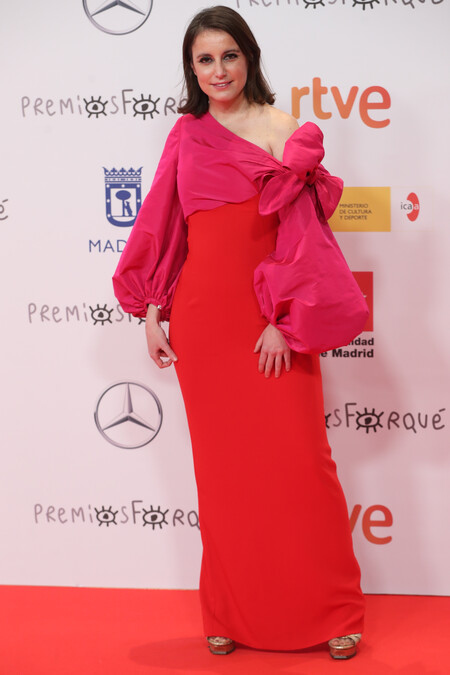 Andrea Levy has opted for a custom design from the Redondo Studio line. An asymmetrical dress with a great lace and puffed sleeves of great volume, made of fuchsia taffeta and red crepe. A beautiful model that places it among the best dresses of the night.
Teresa Riott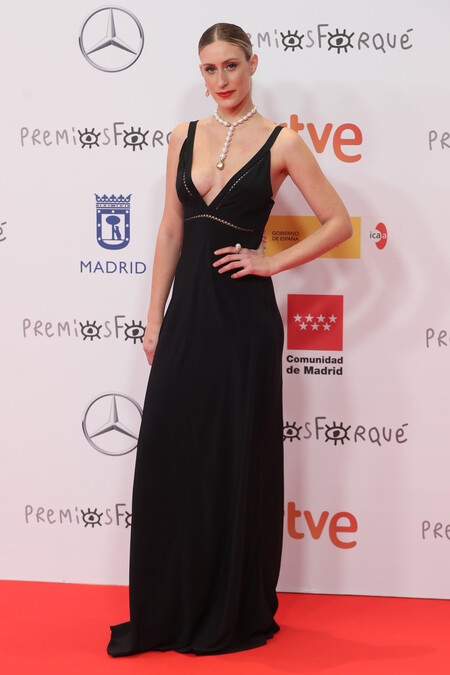 Teresa Riott has opted for a long dress, which fits excessively long, strapped and with a dizzying neckline, which has been combined with a striking pearl necklace Isabel Guarch.
Milena Smit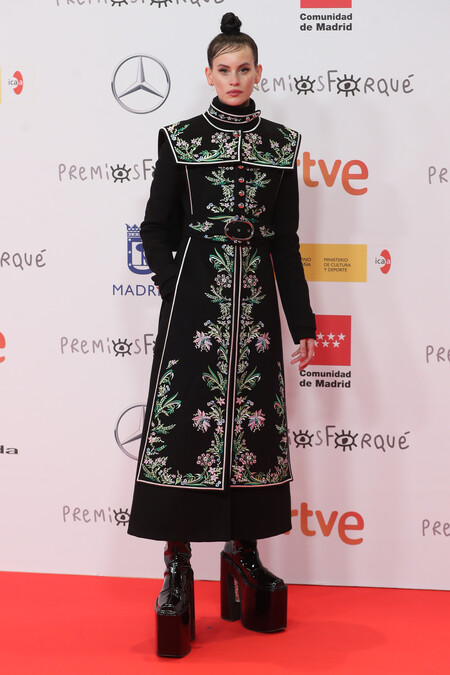 Milena Smit has opted for a spectacular black coat with green and pink embroidery of Paco Rabanne. The failure was the black vertigo platform boots by Art Alternative Shoes.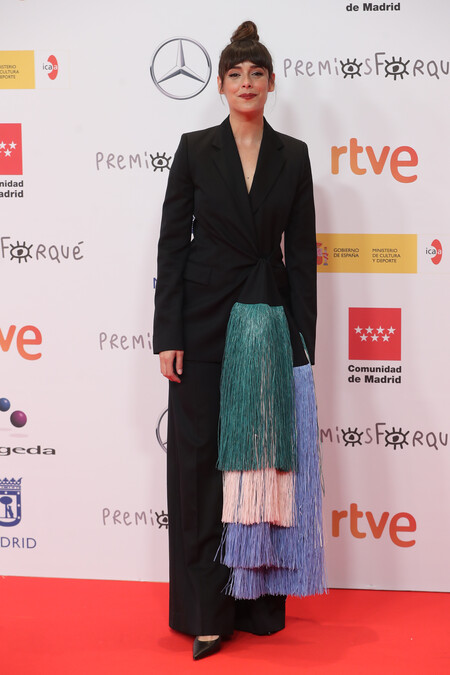 Belen Cuesta has also chosen the colour black for its look from red carpet, but with a touch of color. Perhaps this is the most original look of the night with this black suit, whose blazer has a side knot of cascading colored fringes as a detail.
Ana Fernandez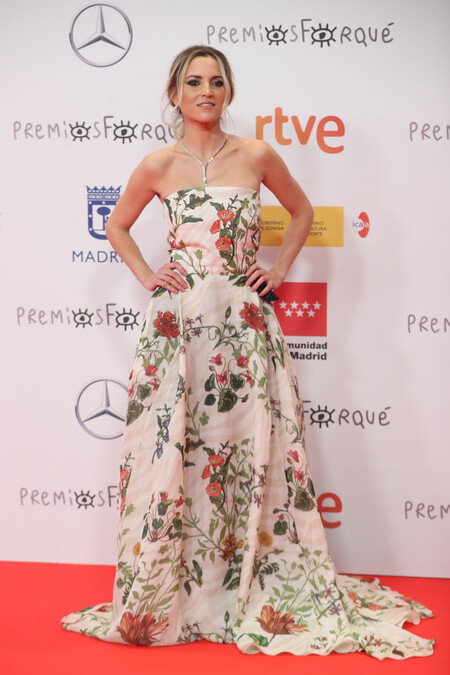 Ana Fernandez is one of the few that has chosen a stamped design. A princess-cut dress with a word of honor neckline and a voluminous skirt with a print of flowers that doesn't quite convince.
Photos | Gtres
Constantly updated article