Bella Hadid in a tennis match is the height of the style preppy sportier. But in a sexy key, one of those that would revolutionize the country club in a powerful video clip by Britney Spears, who is not missing either the two pigtails or the scandalous abdomen. Because the top model knows how to keep up the style even for sport with a look which is such a trend that we'll even copy him to do the shopping.
With this nineteenth-century style, Bella Hadid was seen yesterday on the streets of New York, heading to a tennis match in an outfit athleisure full of trend. Of course, with the standard mask to comply with the regulations and their retro square glasses with tortoiseshell frames that have not been removed all summer and are becoming their sign of identity.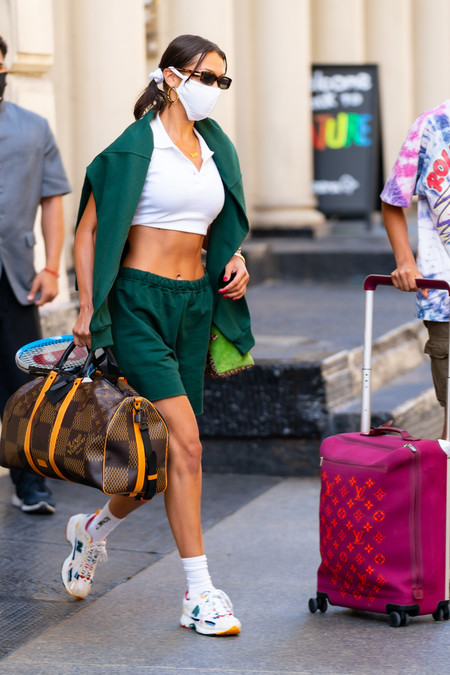 The model took the opportunity to wear a two-piece sports complex shorts jogger and green sweatshirt strategically placed on the shoulders. She has combined this overall look with a pole croppedbragging about her belly and tan to the max and reminding that top that Britney Spears wore as a schoolgirl in Baby one more time.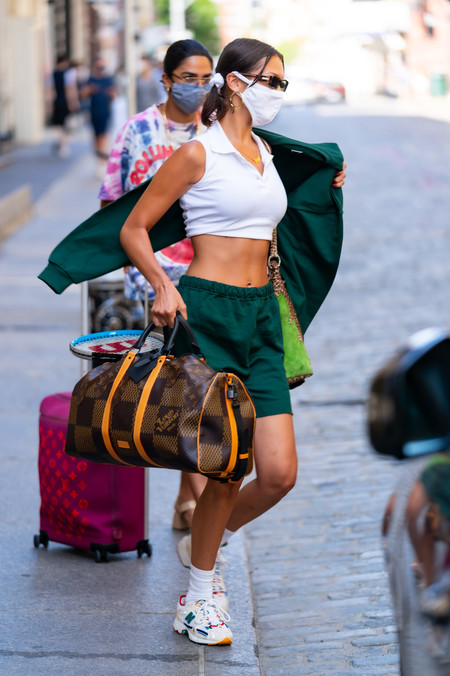 Just because the style is ten does not mean that Bella Hadid has neglected the accessories. Because to those wonderful sneakers in Parcheesi tones Aimé Leon Dore x New Balance 827 she has added minimalist gold jewelry and the icing on the cake: the sport bag bowling by Louis Vuitton that will unleash sighs, envy and love in equal measure.
Photos | Gtres.
Topics
Famous Fashion
Street style